Trip to at north of at North Island between 22 to 24 on December 2019 (optional homework)
The last weekend I went on a trip to at north of at North Island in New Zealand. I went with 9 people from my school, some of them was my classmate in level 2 or in level 3, but no one was my classmate in level 4.
We rented two cars because there was a lot of people, five of them went in one car and the other five in another car.
I drove the car for all trip, it was about 12 hours. It was the first time that I have driven in New Zealand, it was the first time that I have driven in the opposite line, and it was the first time that I have driven an automatic car. These were a lot of new things for me.
Fortunately, the place where was the cars is outside Auckland and I could practice my driving before the start of the trip. When I began to drive, it was very difficult for me because in my car (in Spain) I have three pedals. The pedal on the left is to change the engine gear, the pedal in the middle is to stop the car, and finally the pedal of the right is to move the car. However, automatic cars don't have three pedals, they have two pedals. It's stupid but I felt that I had a lot of legs and few pedals!
I also had to remember I needed to drive on the left, so in the first minutes I told myself "drive on the left, drive on the left, drive on the left…". After driving for twelve years on the right, it's so difficult to change that, but finally I remembered that, and I could drive very well and enjoy it.
In my car (of course it isn't mine but how I was the driver I can say "mine"!) were Jiyi, Riko, Melody and Takashi from Korea, Japan, Taiwan and Japan respectively. It was very good for me because I couldn't speak in Spanish!
In the another car was Atom as driver, Ling, Weining, Gi and Abdul from Thailand, Taiwan*, Taiwan*, Chile and Saudi Arabia. (* I am not sure).
We left the school to Paihia at 2pm, and I had to drive for 3 hours to arrive at the apartments. During the trip I stopped some times for take pictures or drink coffee.
When we arrived at the apartments, we move all the bags from the cars at the apartments and after that we went to buy the dinner and the breakfast for the next day. That night we enjoy speaking and dancing. In the next morning we woke up early because that day would be very long.
I drove for 3 hours and finally we arrived at Cape Reinga, this place is the place northernmost place of New Zealand. We all took a lot of pictures and we saw the beautiful views. After that we split the group in two because some people wanted to go to have lunch, but the other group wanted to go to the beach next to the lighthouse.
My group went to the beach but to arrive there we were walking about 25 minutes because the beach is a little far from the lighthouse. When we arrived there I didn't have to think about what to do, I knew that "if I go to the beach, I will take a bath into the sea", so I throw my underpants far away and I went into the water and I swam!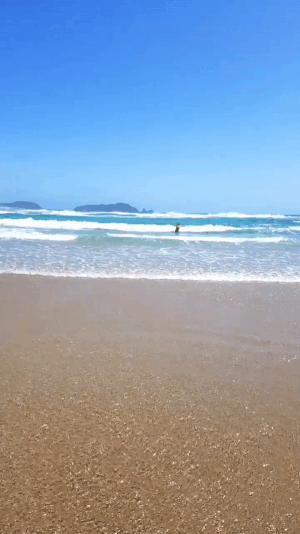 After, we went back to the car and we ate a sandwich. As we hadn't had lunch, we were all very hungry and tired. I had to drive again for 3 hours more and I had to stop in the middle of the trip to drink a big cup of coffee.
When we arrived at Paihia we went to a restaurant to have dinner. We had fish and chips (this was my first time eating it), beef with vegetables, and a salad with prawns, to Jiyi doesn't like eating meat if she can eat other things, so we always have to eat (or had to because she went back to her country) a salad, but for me it's ok because I like all kinds of food.
In the second day we also have a party, but this time was a small party because we were all a little tired from the trip, so we drank, spoke a little, and went to sleep early at 1am.
In the morning we woke up early, this time I could sleep 6 hours… 2 more than the night before, and we made breakfast. The two mornings Jiyi cooked the eggs for the sandwich, she doesn't like cooking, but she is more responsible than all of us.
We had breakfast outside the apartments, next to the pool in the resort, there was not enough space inside to 10 people and it was better eating outside.
(The history isn't complete but I won't write more)